About ENERGETIC Plastic Profiles

ENERGETIC Industry uses only virgin resins and adheres to strict quality control methods to ensure that you receive the absolute best plastic extrusion profile available. We have developed a proprietary downstream process that utilizes real-time inspection methods to ensure consistent diameter, shape, and continuous length of the extruded product.

Energetic manufactures only high quality plastic extrusion profile. We guarantee our profile to be of consistent diameter, consistent shape, and continuous spool length.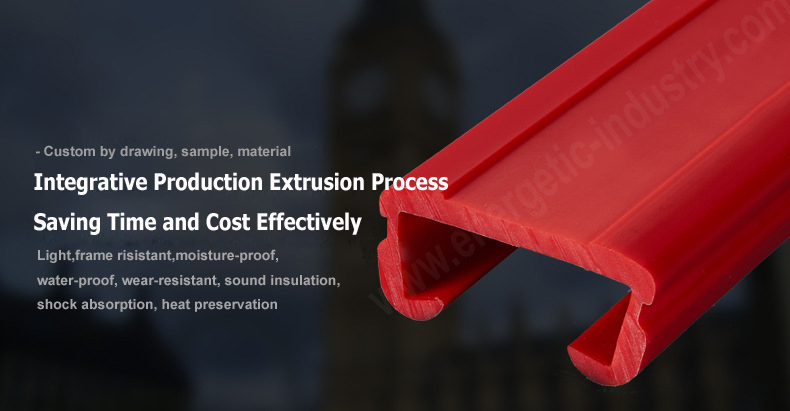 Custom Materials Available Upon Request:

· Material Safety Data Sheets (MSDS) and Material Property Data Sheets are available to meet
ISO, Roshs, SGS compliance requirements.
· Standard round sizes are:3mm, 4mm and 5mm, or customized(Plastic welding rod)
· Tolerances for round sizes are : + 0.000" / -0.010"
· Standard packaging: 250M/ roll, 500M/ roll
· Triangular rods and cap strip are available in limited sizes. We can make new models for you, if you have the demand.
· Custom materials, colors, sizes, shapes and packaging methods are available.
· We stock a lot of standard materials, colors and sizes

Plastic Welding Rod Plastic Extrusion Profile:
Regular size

3mm,4mm,5mm or customized

Customized

Packing

250M/roll or customized

1M/pc, 2M/pc or customized

Tooling charge

d

epends on the dimension
Available Material:
1.ABS; 2.Acrylic; 3. CPVC; 4. EPDM ; 5. FLUOROPOLYMERS(PVDF);
6. HDPE; 7. PA6( nylon) ; 8. PA66( nylon66) ; 9. Polybutylece terephthalate(PBT);
10.PETG ; 11. POLYCARBONATE(PC); 12. POLYETHYLENE(HDPE, HMWPE, LDPE, MDPE);
13. POLYPROPYLENE(PP); 14. PVC; 15. POLYURETHANE(PU, PUR, TPU)
16. POM( Acetal, Derlin); 17. PTFE( teflon); 18. Thermoplastic polyolefin(TPO) ;
19. Thermoplastic Olefin Elastomer( TEO); 20. PP+EDPM( TPV); 21. PC/PBT( XENOY)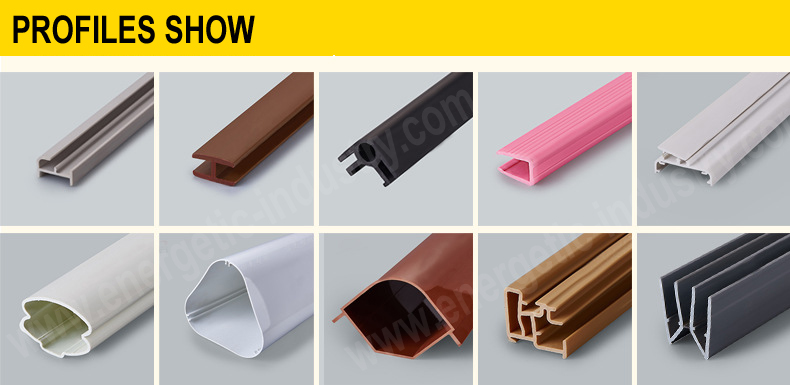 ABS Extrusion Types Included:
Pure ABS, ABS-ESD, Clear ABS, Colored ABS, Flame retardant, UV Resistant
About ABS:
ABS is formed by the polymerisation of styrene and acrylonitrile on to thermoplastic rubber which is then melt compounded with styrene acrylonitrile.
ABS sheets can be processed with ease and versatility. They can be machined, turned, drilled, milled, sawed, bored, die-cut, routed and sheared using high speed carbide-tipped tools. ABS can be machine finished by filing, grinding, sanding, buffing and polishing.

Advantages:
The combinations of the copolymers gives ABS sheet excellent surface appearance that is scratch resistant and available with smooth or textured surface. It has stronger, stiffer and tougher properties than high impact polystyrene (HIPS). ABS sheets also have superior resistance to high temperatures and chemicals than HIPS. ABS is a light and rigid material used in a variety of products.

Key Features:
High rigidity and impact strength

Excellent abrasion resistance

Excellent electrical properties, moisture and creep resistance

Work temperatures ranging from -50℃ to +70℃

ABS has good chemical and stress cracking resistance to inorganic salt solutions, alkalis and many acids (Except strong oxidizing acids)

ABS is easily machined to close tolerances, is tough, dimensionally stable and may be thermoformed
Applications:
Guide rail

Edge binding

U type flame

Triangular guide channel

T slot

Air conditioning strip

Electric wire guide

Door edge banding