恩杰推出塑胶金属制品全面定制解决方案
With a capable machining team and comprehensive knowledge of materials, advanced mechanical engineers and facilities, Energetic Industry extending Comprehensive Plastic Machining Services & Custom Plastics Services in 2019.
We found it is a effective way to help our clients, we already get good cooperation with USA national Fermi Lab, and lots of electronic & electric, agricultural machinery making clients. I sincerely hope can be the help for our coming clients too.
We can Plastic Fabrication parts based on your idea, not only based on for material choosing, but also property requirements custom.
1. Customized material
Materials Available

General Plastic: HDPE, PP, PVC, ABS, PMMA(Acrylic) ect.

Engineering Plastic: POM, PA6, MC nylon, Nylon 66, PTFE, UHMWPE, PVDF ect.

High Performance Plastic: PPS, PEEK, PI, PEI ect.

Thermosetting Plastic: Durostone, Ricocel sheet, G10, FR4, Bakelite ect.

Spcial Plastic Material: Plastic +GF/CA/Oil/Brone/Graphit/MSO2/ceramic ect.

Spcial Plastic Plastic Alloy: PE+PA, PP+PA, POM + PTFE ect.

Metals: Carbon Steel, SS Steel, Brass, Iron, Bronze, Aluminum, Titanium

Special parts: Metal + Plastic Combined Part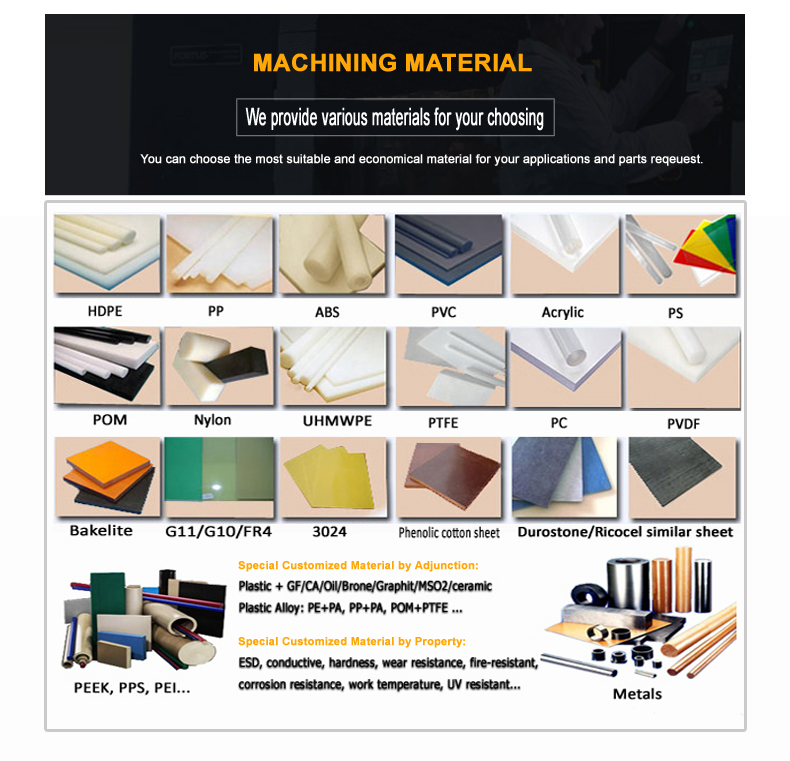 2. Customized property
Customized ESD, conductive, hardness, wear resistance, fire-resistant, corrosion resistance, impact strength, work temperature, UV resistant ect.
3. Customized shape by drawing
As a 10 years experience plastic fabrication company, we can customized various of plastic parts:
Gear, rollers, wheels, base part, spacers, blade, liner, rack, bearings, pulley, bearing sleeves, linear guide rail, sliding block, guide channel, spiral, washer, positioning strip, joint, sheath, lining plate, retaining ring, slot, skating board, frame, cavity parts, SMT jig and fixture, PCB solder pallet, profiles.
Molds, cavity, Radiator fin, prototype, outermost shell, fittings and connectors, screws , bolt …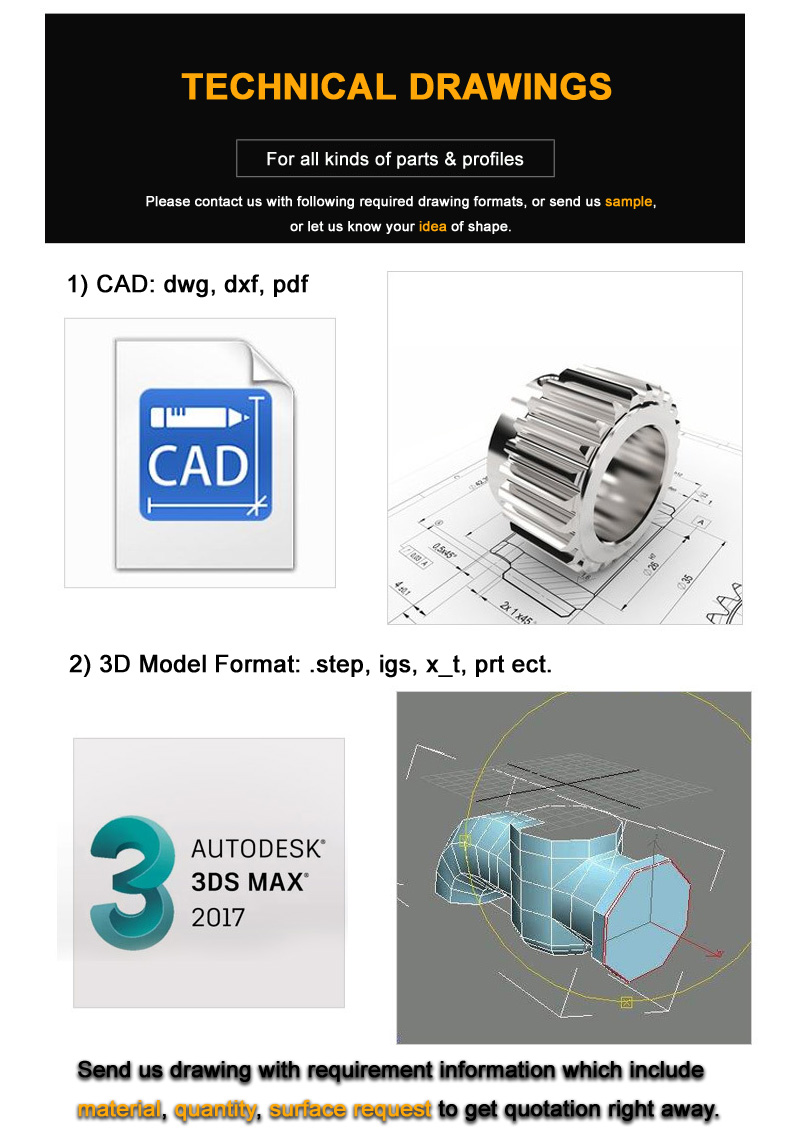 Further services of CNC machining:
Processing: CNC machining, CNC milling and turning, drilling, grinding, bending, stamping, tapping, injection
Surface finish: Zinc-plated, nickel-plated, chrome-plated, silver-plated, gold-plated, imitation gold-plated
Our Advantages:
1. About 10 years for CNC machining experience
2. Full of material stock of metals and plastics
3. Provide 2D & 3D drawing for modifying
4. Competitive price with good quality
5. Small order is acceptable
6. Short delivery time (7-25days according to order Qty)
7. Customized size and specification /OEM available
8. Seaside city, convenient transportation
Application Field:
l Electronic and electrician
l Physical and Electronic Science Research
l Mineral and coal
l Aerospace
l Food processing
l Textile printing & dyeing industry
l Analytical instrument industry
l Medical device industry
l Semi conductor, solar, FPD industry
l Automotive industry
l Oil & Gas
l Automobile
l Machinery and other industrial ect.
Other Information:
Tolerance: +/-0.2mm for plastic, 0.05mm~0.1mm for metal
Drawing format : CAD / PDF/ DWG/ IGS/ STEP