Excepted pure semi-finished plastic material, we also can custom plasticproperties according to client's request.

- Shapes: sheet, rod, tube, roll, plate, part

-

Special propeties

can be customized: plastic alloy, p

lastic +GF/CA/Oil/Brone/Graphit/MSO2/ceramic ect.

-

Most regular thickness and standard size in stock, fast delivery

- Support cut as request size, machined into parts

-

Forming method: extruding, mold pressing, casting,CNC machining

- Lead Time:

10 ~ 15 days

if not have in stock,

5 days

for stocked items

- Packing: carton box, IPPC wooden pallet/plastic pallet

- Shipping: by sea, air, TNT/UPS/Fedex/DHL Express
FREE sample for testing, please feel free to contact us at sales@energetic-industry.com
Materials Available

General Plastic: HDPE, PP, PVC, ABS, PMMA(Acrylic) ect.

Engineering Plastic: POM, PA6, MC nylon, Nylon 66, PTFE, UHMWPE, PVDF ect.

High Performance Plastic: PPS, PEEK, PI, PEI ect.

Thermosetting Plastic: Durostone, Ricocel sheet, G10, FR4, Bakelite ect.

Spcial Plastic Material: Plastic +GF/CA/Oil/Brone/Graphit/MSO2/ceramic ect.

Spcial Plastic Plastic Alloy: PE+PA, PP+PA, POM + PTFE ect.

Special parts: Metal + Plastic Combined Part
---
Epoxy Material Types Included:
Ordinary 3240 yellow type, FR4 light green type, halogen-free G10/G11, Black ESD FR4
About ESD FR4 sheet:
Laminated material in sheets, made from modified non-alkaline glass fabric and anti-static agent as a frotifier material and epoxy resin as a binder. In addition to its good mechanical and electric insulating properties. The material is self-extinguishing, classified as inflammable, good anti-static property.
Advantages:
▪ Extremely high mechanical strength
▪ Good dielectric loss properties
▪ Good electric strength properties, both wet and dry.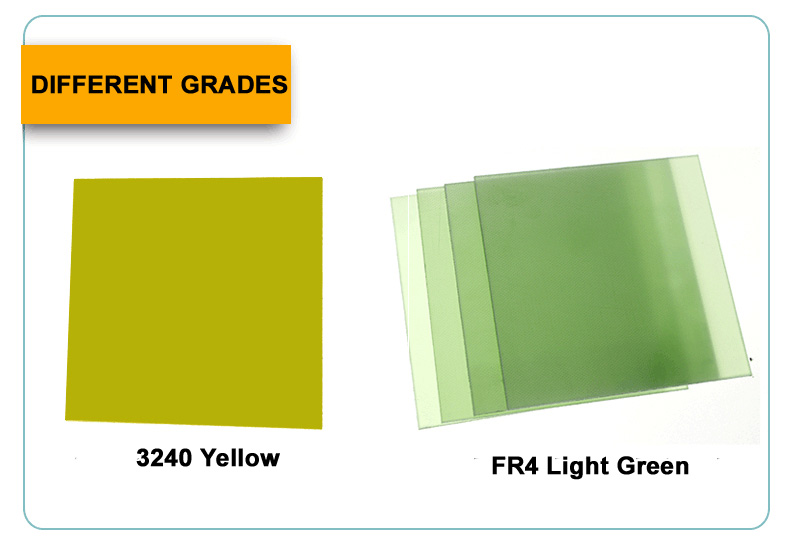 Key Features:
▪ High mechanical properties, and oil resistance and certain dielectric property.
▪ Thermal rating is 120, and temperature resistance :150 °C
▪ Withstand a variety of chemical solvents and acid erosion
Applications:
▪ Chemical machine parts
▪ General machine parts and gear, generators, Pads, base, baffle
▪ Generator,transformer, fixture, inverter, motor
▪ Electric insulation component
More Insulation Plastics: