Excepted pure semi-finished plastic material, we also can custom plastic properties according to client's request.
- Shapes: sheet, rod, tube, roll, plate, part
-
Special propeties
can be customized: plastic alloy, p
lastic +GF/CA/Oil/Brone/Graphit/MSO2/ceramic ect.
-
Most regular thickness and standard size in stock, fast delivery
- Support cut as request size, machined into parts
-
Forming method: extruding, mold pressing, casting,CNC machining
- Lead Time:
10 ~ 15 days
if not have in stock,
5 days
for stocked items
- Packing: carton box, IPPC wooden pallet/plastic pallet
- Shipping: by sea, air, TNT/UPS/Fedex/DHL Express
FREE sample for testing, please feel free to contact us at sales@energetic-industry.com
Materials Available

General Plastic: HDPE, PP, PVC, ABS, PMMA(Acrylic) ect.

Engineering Plastic: POM, PA6, MC nylon, Nylon 66, PTFE, UHMWPE, PVDF ect.

High Performance Plastic: PPS, PEEK, PI, PEI ect.

Thermosetting Plastic: Durostone, Ricocel sheet, G10, FR4, Bakelite ect.

Spcial Plastic Material: Plastic+GF/CA/Oil/Brone/Graphit/MSO2/ceramic ect.

Spcial Plastic Plastic Alloy: PE+PA, PP+PA, POM + PTFE ect.

Special parts: Metal + Plastic Combined Part
---
HDPE Material
Types Included:
Pure HDPE, Flame Retardant HDPE, HDPE-ESD, UV Retardant HDPE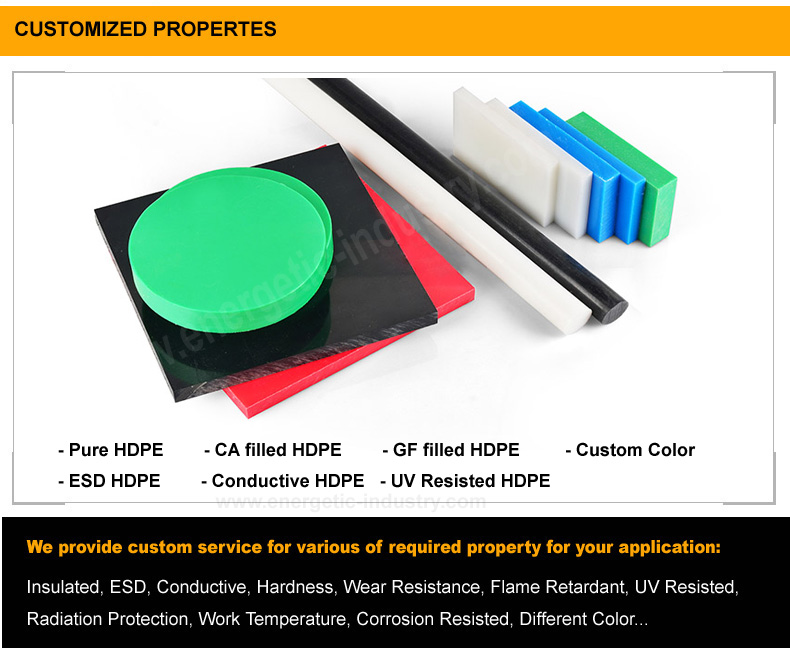 About HDPE :
HDPE offers excellent impact resistance, light weight, low moisture absorption, and high tensile strength. HDPE is non-toxic and non-staining, can be used on food processing.
HDPE Sheet & Rod is light and easy to machine to help improve machining times. It is very tough and almost impossible to break which helps produce components that are tough and can stand up to a lot of punishment in high impact environments.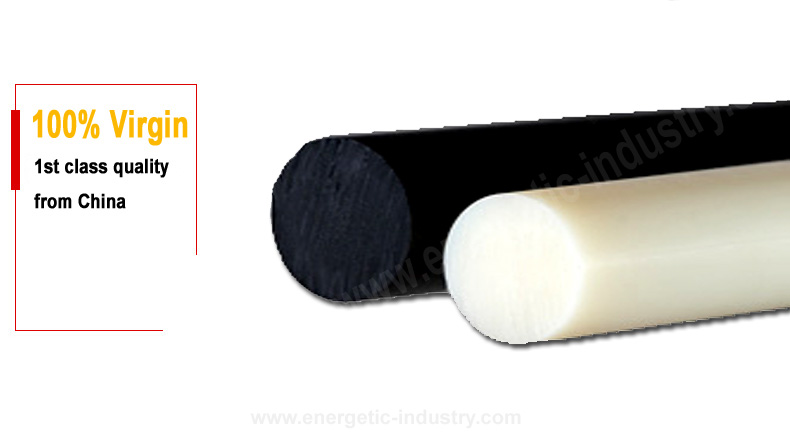 Advantages:

▪ Excellent chemical resistance and corrosion resistant.
▪ Good Fatigue & Wear Resistance
▪ Resists organic solvents, degreasing agents & electrolytic attack.
▪ Foodsafe
▪ Great cutting board material.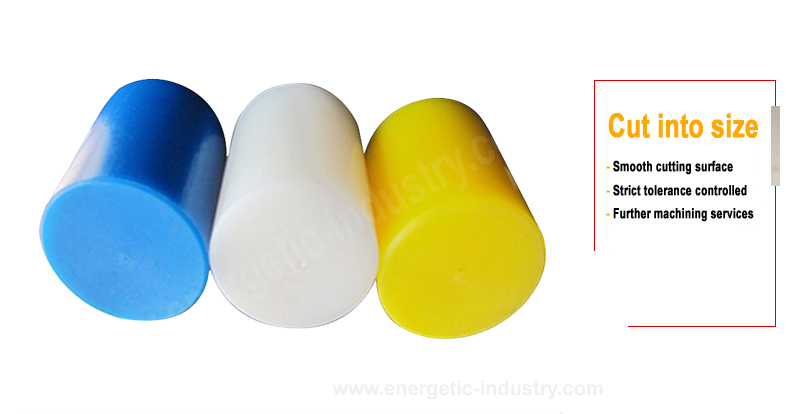 Key Features:
▪ High tensile strength
▪ Lightweight
▪ Thermoforming performance, work temperature -50℃ to +90℃.
▪ No moisture absorption
▪ Non-staining
▪ Non-Toxic

Applications:

▪ Cutting Boards (Natural (White) Sheet only)
▪ Tanks
▪ Orthotics and prosthetic devices
▪ Trays
▪ Water storage
▪ Light duty chain guides
▪ Secondary containment